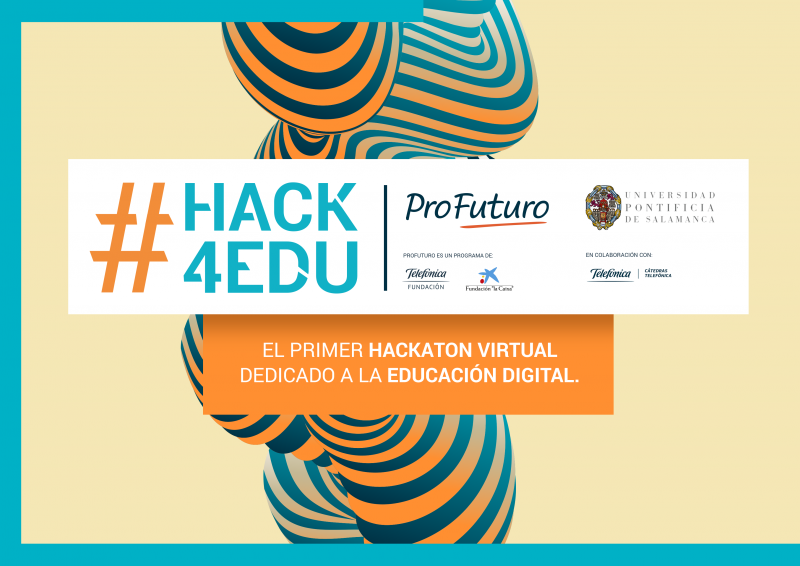 ProFuturo and the Universidad Pontificia de Salamanca (UPSA), through the network of Telefónica Chairs, have launched # hack4edu, the first virtual hackathon aimed at posing and solving technological challenges related to the challenges currently facing the digital education in the world. # Hack4edu is open to people from all over the world and proposals in Spanish and Portuguese will be accepted.
Subscribe #hack4edu here
Desde hoy y hasta el 22 de octubre, en una primera fase de esta iniciativa, cualquier persona, universidad o institución relacionada al ámbito de la programación, informática, telecomunicaciones, educación y pedagogía podrá plantear retos en línea con el manejo de datos personales en las plataformas educativas, el acceso a contenidos educativos digitales en zonas con conectividad limitada, o el uso de analítica de datos para personalizar el aprendizaje, entre otros.
Posteriormente, durante un hackatón virtual que se celebrará el 4, 5 y 6 de noviembre, los participantes trabajarán en equipos para proponer soluciones tecnológicas a estos y otros desafíos. Trabajarán telemáticamente en el diseño del prototipo que resuelva el problema abordado.
Un reto específico sobre ProFuturo
ProFuturo, por su parte, pondrá a prueba a los participantes proponiendo un reto específico relacionado a alguno de los obstáculos que enfrenta a la hora de implementar su programa de educación digital en zonas vulnerables de los 38 países en los que opera en Latinoamérica, el Caribe, África y Asia.
Los mejores proyectos serán galardonados con premios que irán desde los 2.000 a los 500 euros. Además, la red de Cátedras Telefónica ofrecerá tres matrículas gratuitas del máster experto en Big Data de la Universidad Pontificia de Salamanca.
#Hack4edu está abierto a personas de todo el mundo que se inscriban para participar en www.hack4edu.org. Se aceptarán propuestas en español y en portugués. Los participantes tendrán que vincularse a alguna de las universidades asociadas a la iniciativa, entre las que se encuentran la Universidad Pontificia de Salamanca, La Universidad de Salamanca y varias universidades latinoamericanas.
Inscríbete en #hack4edu aquí