The WISE Awards
ProFuturo has been selected as one of the finalists for the 2021 edition of the prestigious Qatar Foundation's WISE Awards for Innovation in Education. Our digital education programme is the only Spanish project among the 12 finalist initiatives from 9 different countries. 
Since 2009, WISE has awarded six prizes each year to the world's most innovative educational projects. According to the Qatar Foundation's education initiative, "last year proved that it is important to innovate in education" and so its 2021 edition has selected finalist projects that propose innovative solutions to some of the challenges already facing education and have been accentuated in the wake of the COVID-19 pandemic.
Dropping out of school, the digital gap, low enrolment of girls in schools, access to education for refugee children, and low levels of reading and numeracy among primary school pupils are some of these challenges. 
ProFuturo: Digital education for equal opportunities
ProFuturo has been selected for its innovative digital education programme that aims to narrow the global education gap. Our digital education programme, based on innovative teaching-learning methodologies and technology, is currently implemented in 40 countries in Latin America, the Caribbean, Africa and Asia. WISE has thus rewarded our work in bringing quality digital education to vulnerable environments. 
At ProFuturo, we seek to foster the development of 21st century skills in teachers and students. On the other hand, we were able to meet the challenge of adapting digital education during COVID-19. Thus, in addition to opening our educational resources free of charge to the world, at ProFuturo we have transformed our digital content into alternative formats to reach the disconnected: physical workbooks, production of podcasts and videos broadcast on radio and television or classes sent via WhatsApp.
"Being finalists in such prestigious awards as the WISE Awards is a real honour that shows that when you put technology and innovation at the service of education, you can do great things," said ProFuturo CEO Magdalena Brier. "Digital education has been a great ally for the continuity of education in 2020 and will remain a great ally in bringing quality education to all corners of the world and facilitating equal opportunities," she added.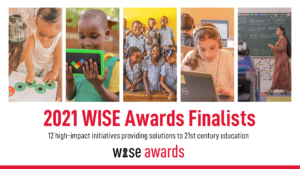 Nominated projects and determination of the winners
The six WISE Award winners will be announced next September and presented during the WISE Summit on 8-9 December. In addition to the visibility and networking opportunities during the summit, each winning project will receive $20,000. 
Together with ProFuturo, the finalists of the 2021 edition are: Pehchan Project from CULP – Center for Unfolding Learning Potentials (India); Women Entrepreneurship and Skilling from AISECT; The Happiness Curriculum from Dream a Dream (India); Creating Social Emotional Learning (SEL) Programs for Children in Indian Public Schools from the Labhya Foundation (India); Kinedu (Mexico); Onebillion from Onebillion Children (UK); Trauma Informed Schools from the Maya Vakfi Foundation (Turkey); Let's All Learn to Read from the Luker Foundation (Colombia); Kiwix (Switzerland); Taleemabad from Orenda Project (Pakistan); Civic Leadership for Education Equity from Anseye Pou Ayiti (Haiti).