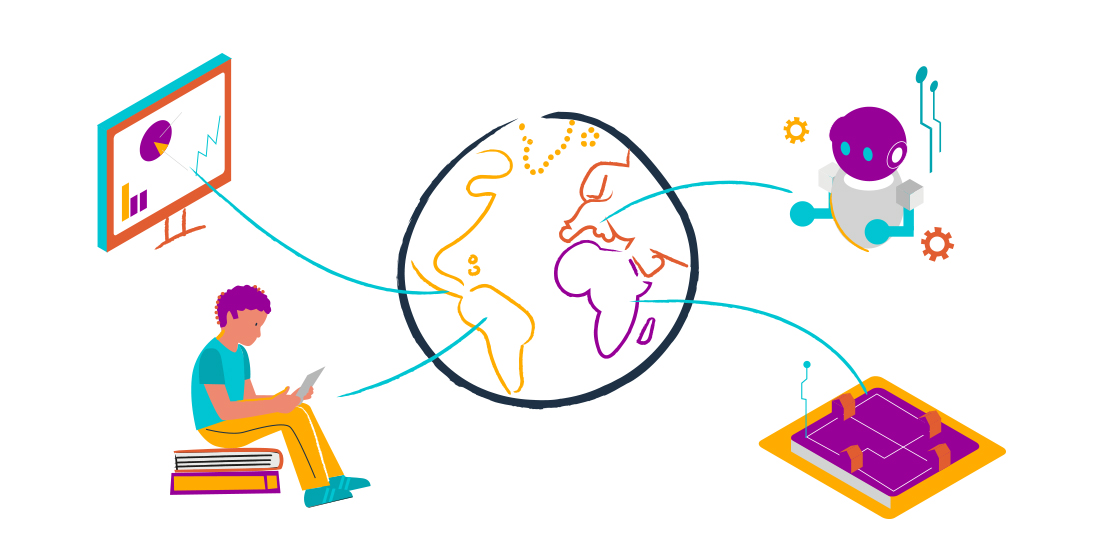 On Monday 24 June, ProFuturo will be launching the reference document "Artificial Intelligence in Education: Challenges and Opportunities for Development" in Spain. The document was formulated in partnership with UNESCO and experts from the field of AI, and was officially launched during Paris Mobile Learning Week in March. The launch will take place at Espacio Fundación Telefónica, at 7.00 pm. The event will be live-streamed and can be followed on social media using the hashtag #IAProFuturo.
Data analytics is opening up new horizons in the world of education, with regard to uses, possibilities  and risks in the field of education for development. As new debates arise in developing countries regarding the use of AI in education to reduce the digital gap and promote social equality, ProFuturo, hand in hand with UNESCO and experts in the field, has developed a reference document on the subject, launched as part of Mobile Learning Week.
For the event, ProFuturo has gathered a group of professionals to discuss challenges 2, 3 and 6 identified in the UNESCO document, having to with computational thinking, data personalisation and data compiling ethics.
One of the speakers will be Paula Valverde, ProFuturo Product and Innovation Director, who will introduce the reference document and the six main public policy challenges and issues with regard to incorporating AI into education. The round-table on challenges will feature Elena Gil Lizasoain, Global Big Data Director, at Telefónica, and CEO of LUCA, who will outline Telefónica's views on challenges involved in building an ethical, transparent system for the compilation, use and disclosure of data; Ricardo Maturana, founder and director of GNOSS and Didactalia, who will speak about data inclusion and equality in education; and Miguel Zapata, international consultant in open university education and instructional design and editor of RED, who will analyse challenges in computational thinking.
The event will be chaired by Guillermo Sánchez, chief editor of El País Retina. The ideal speakers to share their experience in education and the use of artificial intelligence and to open the debate about this new reality.
If you wish to attend, you can download the free entry ticket from the Espacio Fundación Telefónica website (capacity limited). The event will also be live streamed on the website and may be followed on social media using the hashtag#IAProFuturo.