We're celebrating World Refugee Day at ProFuturo in a special way this year because we've expanded our refugee model to two new countries: Rwanda and Tanzania. In 2021 our work will contribute to improving the education of 16,800 children whose studies have been disrupted by their forced displacement. 
The work in these two countries will complement the efforts made by ProFuturo in refugee camps and informal settlements in Lebanon, Jordan and Malawi. We've managed to train 197 teachers and benefit 7,280 children in these three countries.
According to data provided by UNHCR, there are currently 82.4 million forcibly displaced people around the world. As of today, there are twice as many displaced people as in 2011, when they totalled just under 40 million. Moreover, children under the age of 18 account for 42% of all displaced people. We've reached a moment at which 1% of the world's population has had to flee their homes due to, conflicts and natural disasters. 
In 2001 the United Nations created World Refugee Day to honour refugees and displaced people around the world every 20 June. The event seeks to highlight the rights, needs and dreams of the refugee population and promote empathy and understanding.
Our commitment to refugees
Regardless of the situation they find themselves in, all children have the right to education. In 2017, therefore, at ProFuturo we began to adapt our Digital Education Framework to crisis-related contexts by applying a holistic approach aligned with the principles of the INEE (Inter-Agency Network for Education in Emergencies). We thus work with organisations that help us to address other areas that are also necessary for ensuring high-quality learning within a refugee context, including psychosocial support, safe learning spaces and food and health care.
ProFuturo's contribution to improving education in emergency contexts formed part of the Global Refugee Forum organised by UNHCR in 2019 in Geneva and currently forms part of the Dashboard that brings together all the commitments made by public and private institutions to contribute to the achievement of the UN Global Compact on Refugees. The extension of the above commitment was publicly announced last May at a global meeting of companies organised by UNHCR.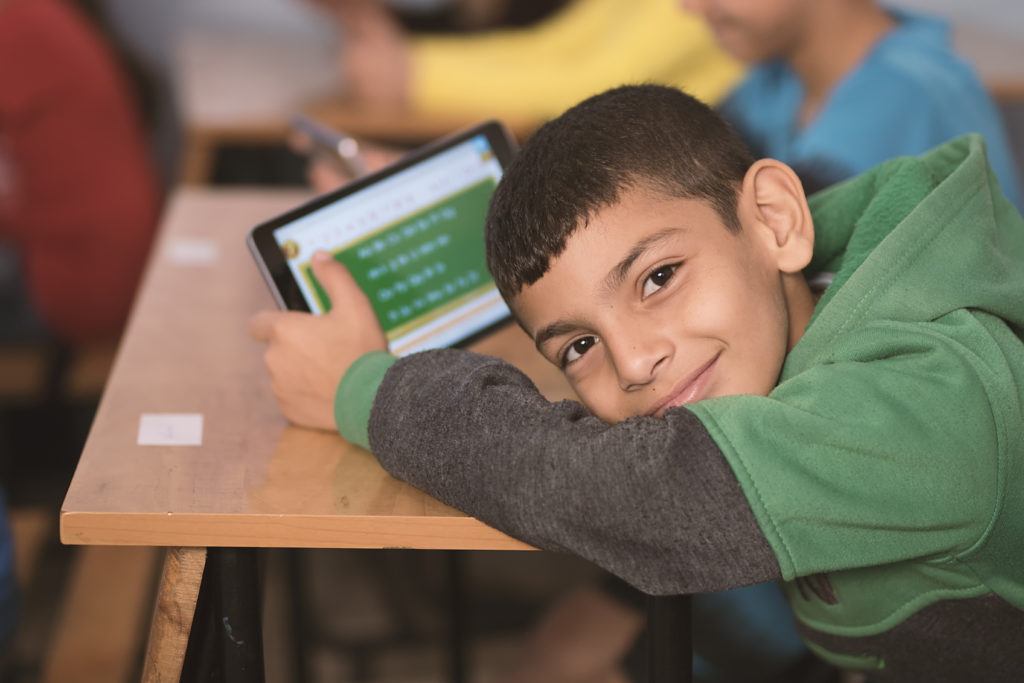 Rwanda and Tanzania
In Rwanda, in partnership with UNHCR, we've begun to implementing our digital education program in six refugee camps in the regions of Mahama, Kigeme, Mugombwa, Nyabiheke, Gihembe and Kiziba. The target is to increase the quality of the education and facilitate the integration of the refugee children into the national education system. The alliance will benefit 10,541 children and 373 teachers at 11 schools located in six Rwandan refugee camps in the regions of Mahama, Kigeme, Mugombwa, Nyabiheke, Gihembe and Kiziba.
In Tanzania we're working with Save the Children in the Kigoma region, more specifically at eight primary schools and two mobile centres in the Nduta and Nyarugusu refugee camps. The joint project will train 190 teachers in 2021 and contribute to improving the quality of the education of 6,293 Burundian and Congolese children aged 6 to 17.
Lebanon, Jordan and Malawi
Lebanon was the first country in which ProFuturo implemented its educational intervention model adapted to emergency contexts. In partnership with the JRS (Jesuit Refugee Service) and Entreculturas we conducted a pilot project at a school reinforcement centre on the outskirts of Beirut for Syrian refugees who were already enrolled within the Lebanese public education system, in which the language and syllabus are different from those in their countries of origin. In 2018, as a result of the collaboration with the Kayany Foundation and the AUB (American University of Beirut), we expanded our activities to the Bekaa Valley, an area located a few kilometres from the Syrian border where most of the informal settlements for Syrian refugees are currently located. ProFuturo also works at a school in Akkar and at a reinforcement centre at a refugee camp for Palestinians in Beirut. Overall, we work at 18 schools across the country, where we've trained 131 teachers and contributed to improving the education of 2,668 children.
In 2019 ProFuturo took the emergency education model to the Dzaleka refugee camp, 30 kilometres from the capital of Malawi, which provides a home for 40,000 people, mostly from the Democratic Republic of Congo. In partnership with the JRS (Jesuit Refugee Service) and Entreculturas, the program has benefited 4,365 children and 53 teachers at the only primary school in the refugee camp. 
In Jordan we've been working since 2020 with 13 teachers and 247 pupils at a school in Amman, more specifically with the Messengers for Peace Association in Marka, a neighbourhood of the city, with Iraqis who are refugees in the country. We're now expanding our activity to include Jordanian teachers. 
Learning Arabic by playing
In order to teach Syrian and Iraqi refugee children to read Arabic, ProFuturo has begun using the Antura and the Letters video game at the schools it works at in Lebanon and Jordan. This digital resource enables the students to learn to read Arabic from scratch by playing games. Together with a dog avatar, they learn to recognise each letter and its sound. From then onwards they start to build and read words made up of the letters they've learnt.