At ProFuturo, together with the Universidad Pontificia de Salamanca (UPSA) and the Telefónica Cathedras Network, we have renewed for another year the Telefónica ProFuturo-UPSA Chair 'Data analytics for educational projects in vulnerable environments', which was created in 2018 with the aim of innovating in digital education and finding the algorithm of educational quality.
For four years, the Cathedra has been promoting research and development of technologies for the exploitation of data from the educational projects that ProFuturo carries out with its programme in Latin America, the Caribbean, Africa and Asia. It has also been the seed of initiatives such as #hack4edu (the first hybrid, international hackathon with a social purpose dedicated to digital education), which in November will celebrate its third edition with more than eight countries, 14 universities and 280 participants in its trajectory.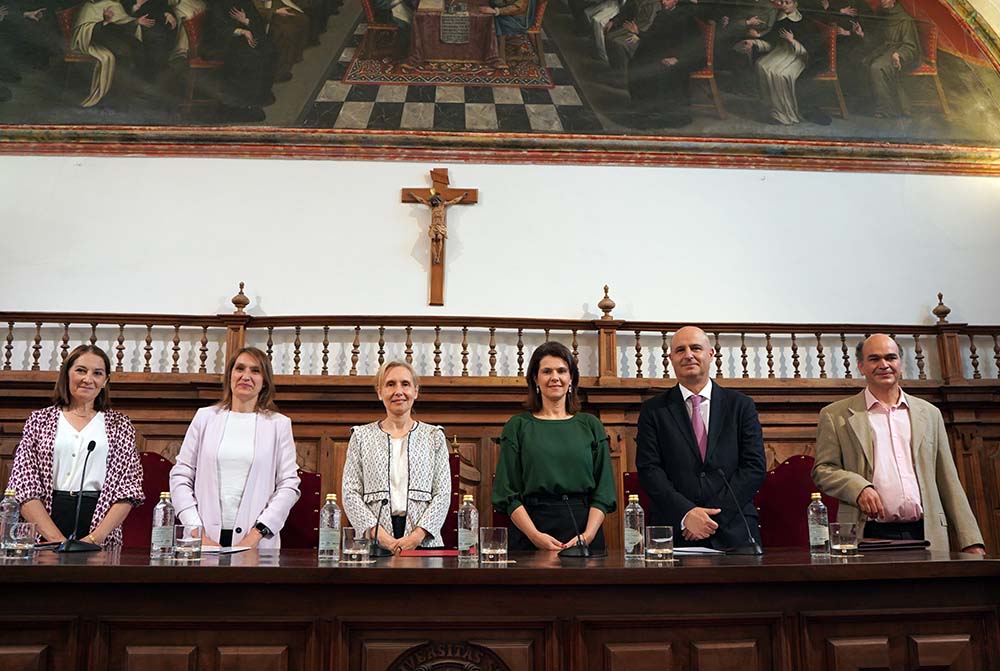 The big challenges of digital education in vulnerable environments
The signing of the agreement took place at the Ágora Telefónica Conference on the great challenges of digital education in vulnerable environments, one of the activities that forms part of the Telefónica ProFuturo-UPSA Cathedra and which is organised by the Telefónica Cathedras Network to promote debate on digital transformation, culture and society at university.
The meeting featured two round tables. The first, moderated by the director of the Telefónica ProFuturo-UPSA Cathedra, Manuel Martín-Merino, focused on the current and future challenges of digital education from three points of view: that of the university, that of the public administration and that of the company.
En la Jornada Ágora @Telefonica sobre los grandes desafíos de la #EducaciónDigital en entornos vulnerables se conversará de la transformación digital, la cultura y la sociedad en la universidad💻

📍https://t.co/Td8oTGqvjX@fundacionTef @FundlaCaixa @upsa @CatedrasTEF pic.twitter.com/o0zHtwDJ68

— @Profuturo_ (@ProFuturo_) June 1, 2022
Mirian Cortés, rector of the UPSA, explained that "universities that want to move into this virtual teaching environment require a complex strategic plan with the entire education community involved in it. Just because it exists all over the world does not mean it is always being done well. For this reason, he added, "universities with a face-to-face tradition, such as ours, have no reason to modify and transfer their entire academic offer to the virtual territory, especially when face-to-face attendance and its associated methodological processes have for centuries demonstrated their effectiveness in the face of this new synchronous interaction, which is still far from being able to be fully developed in the virtual sphere".
In her speech, Rocío Lucas, Regional Minister of Education of the Castilla y León regional government, defended the hybrid model in education: "Digital education is the indispensable complement to face-to-face education, with that essential closeness between teacher and student. In this combination lies the formula for success." The Regional Minister also highlighted the Castilian education system's commitment to communication technologies: "In this legislature we aim to connect classrooms so that pupils can interact through digital education. We are going to invest heavily in the wiring of schools." 
Beatriz Herranz, Telefónica's regional director in Madrid, Castilla y León and Castilla-La Mancha, said that two years after the pandemic, "the challenge now is for the entire education community to adapt to a new scenario: to learn and teach digitally, creating content and new teaching methods. We need to change mindsets and train the digital leaders who must guide us through this change of era, where people must be at the centre of everything."
Mílada Gonçalves, Head of Innovation and Product at ProFuturo, explained why data analytics applied to educational innovation projects is a strategic priority for this digital education programme: "It allows us to gain insight into how people learn and, in turn, to support individual teachers in both personalising learning in the classroom and in their own professional development". 
The event was also attended by the Deputy Minister of Digital Transformation of the Junta de Castilla y León, Jorge Llorente, who highlighted the importance of connecting the rural world and public-private collaboration to meet educational and digital challenges. "Digitalisation is a journey that no single institution should take alone. We are committed to an open and collaborative digitalisation where we all have to be united to achieve an exponential effect for the future of citizens," he said.
In the second round table, several of the projects developed by ProFuturo and the UPSA under the Telefónica Cathedra were presented and moderated by Manuel José Ruiz García, manager of data analytics at ProFuturo. Specifically, the projects "Listudents" and "Smart App for emotion recognition" were presented, both of which won awards at the last edition of #hack4edu.
Three works developed by students of the Telefónica ProFuturo-UPSA Cathedra on data analytics applied to ProFuturo were also shared: automatic detection of anomalies in data capture; a tool for estimating associations between teachers' skills and their performance on the platform; and analysis of messages related to ProFuturo actions on social networks.
Algunos alumnos de la @CatedrasTEF – @upsa, explican sus trabajos basados en la analítica de datos y elaborados para ProFuturo🌍
📍https://t.co/Td8oTGqvjX@fundacionTef @FundlaCaixa #EducarTransforma #EducaciónDigital pic.twitter.com/Gh9MxBi9BL
— @Profuturo_ (@ProFuturo_) June 1, 2022