Perseverance, the desire to excel, empathy and creativity are traits that many of the great historical and contemporary figures who have made history through their achievements have in common. It is the combination of knowledge, abilities, skills and attitudes that help people to gain better opportunities for the future and even make a big difference. How are we learning and teaching these skills? Today, we'll show you ten educational innovations for learning and teaching 2030 skills.
Are today's schools preparing the citizens of tomorrow well? The debate on the skills that the children of today need to learn to become the best citizens of tomorrow is being increasingly debated in all social and educational forums. In today's rapidly changing environment, predicting what those skills will be is a complex task. However, there does seem to be a growing consensus around the idea that there are certain types of skills that will be vital in order to be successful in the future. They are called by many names: 2030 skills or 21st-century skills because, although they are not new, they have become of vital importance in recent years; transversal skills, because they should be common in all trades, professions, etc.
At the ProFuturo Observatory we recognise their importance in the education of all children. That's why, in our series of articles on the 100 most outstanding educational innovations published by HundrED, we devote a post to review those dedicated to teaching. Here are ten educational innovations for teaching 2030 skills.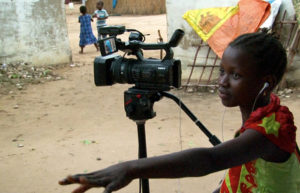 United States
Sharing personal and real stories of children who have to face issues such as immigration, bullying, climate change and child marriage fosters empathy. BYkids is a global movement that uses the power of documentary film stories to generate debate on social justice issues and get children involved in human dignity. It does this in a very special way. Because the BYkids' stories are told by the protagonists themselves, the children who the organisation provides with cameras and training to make short films about their lives. Their materials are made available through various platforms, such as PBS LearningMedia, and communities such as PenPan Schools. An initiative that foments the desire to change the world in millions of children.
India
Our way of dealing with life, what's known in the Anglosphere as our "Mindset", plays a fundamental role in people's future. Design for Change is a global movement that cultivates the "I CAN" mindset in every child. They are made up of four simple steps to make children feel that nothing is written in stone or predetermined. What are these simple steps?  1) Feel 2) Imagine 3) Do and 4) Share. Through these steps, children are able to approach problems with empathy, coming up with creative solutions and working as a team to carry them out.  Thus, they grow up feeling that change is in their hands, that it can happen, and, more importantly, that they can make it happen.
Estados Unidos
The Girl Rising videos explore the profound barriers faced by girls around the world: poverty, child marriage, gender violence, and so on; and the change that takes place when these barriers are broken down. When students watch these videos, they are motivated to go further, to value their education, to think critically and to believe in their own ability to create change. Using stories of courage and resilience, Girl Rising promotes empathy, inspiring students to become global citizens and local change makers. The Girl Rising videos have spread across 144 countries, where they have impacted half a million children.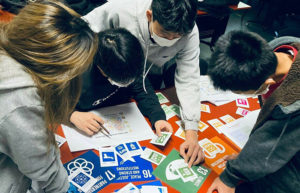 Hong Kong
Inspire Citizens is an independent educational organisation that works with partners to reinvent schools as thriving community centres providing personal, local and global learning. The ultimate goal is to train educators and empower students to understand and learn how to address the complex challenges of the 21st century to ensure a more just and healthier future for all.
India, Sri Lanka and Bangladesh

A team of 12-year-old children saving 81,000 litres of water in their community or saving 800 kilos of perfectly good food thrown away as waste to donate to an orphanage. This is ICO. A platform for children to address environmental and social problems in their surroundings and to be able to launch change initiatives in order to solve them. The participants are organised into teams of two to four people, and they have five months to develop and implement their solutions. They are supported by a mentor who guides them remotely through audio and video calls.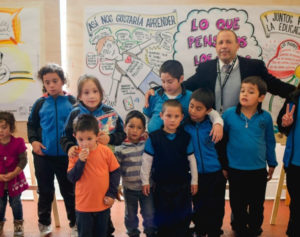 Chile
It is a teacher training project which aims to contribute to improving the teaching-learning processes in the country's public schools. Through workshops, they promote a pedagogical strategy based on the application of 21st-century skills in education along with the systematic planning of classroom activities. In addition, they provide mobile technology and digital educational resources to support and complement the teachers' work in the classroom.
India
Because discovering who you are, finding your inner voice, should never be a privilege just for those who can afford it. That's why Slam Out Loud was created. Children from vulnerable backgrounds don't often have the opportunity to develop their creativity and build their self-confidence or find their voice through creative expression. Slam Out Loud takes advantage of the power of visual and performing arts to generate this creative confidence in disadvantaged children through social-emotional learning, enabling them to have big dreams and build their own future. The programme has been implemented in 16 countries and has already had an impact on nearly 80,000 students.
Jordan
Can you imagine a world in which children no longer read for fun? That's what the Jordanian Doctor, Rana Dajani observed in 2006. When she started to investigate the causes, she saw that one of the major reasons was that children lacked role models and references to aspire to. She then went immediately from theory to practice and began reading aloud to the children in her neighbourhood. And so, We Love Reading was created, a programme that trains local adults and youth volunteers to read children's books aloud in the local language and culture in their neighbourhoods. The programme is backed by research from several universities that has shown how reading stories on empathy to children for three months significantly increases their empathy levels (University of Chicago); and that reading helps reduce mental stress levels in both children and adults and contributes to them being more resilient. The programme has now spread to 62 countries and helps nearly half a million children improve their social-emotional skills through reading.
Venezuela
More than 40 years ago, in a garage in Caracas, the Sistema Nacional de Orquestas y Coros Juveniles e Infantiles de Venezuela (National System of Youth and Children's Orchestras and Choirs of Venezuela) was created. Today it is no longer necessary to refer to it by this long name. It's suffice to say El Sistema (The System). It was created by Venezuelan Maestro, José Antonio Abreu and has since provided musical education and a future for more than two million children, mostly from the most disadvantaged strata of society. Abreu was convinced that musical instruments are weapons for social engagement and empowerment for a route out of poverty. Because for him, "the most terrible thing about being poor isn't only not having enough to eat. It's feeling like you are nobody." Moreover, he had observed that music gives you back the identity and dignity that poverty takes away from you in abundance. El Sistema Global replicates this movement on a global scale in 41 countries.
Estados Unidos
Resources for teaching civic responsibility, social justice, social-emotional education and global skills brought together on a single platform. Composer has developed a platform for educators to access the best resources for citizenship education. The digital platform uses Educational Sciences to select and sequence the content and to help teachers plan a personalised curriculum for each classroom. A kind of "one-stop-shop" for resources that allows educators to receive guidance and support in creating high-quality, personalised remote learning experiences.
What do all these programmes teach us?
The introduction of the 2030 skills in school curricula requires a profound change in their pedagogical perspective that has not yet been produced in full, and even more so in developing countries that require it the most. However, informal education programmes and many educators are already taking note and are working to create diverse and innovative ways of working with these skills.
Social-emotional skills such as empathy, determination and flexibility are becoming increasingly important within the 2030 skills and programmes dedicated to promoting and teaching them are multiplying. Faced with the increasing complexity of objectives, working methods, demands placed on education systems, etc., it is necessary to return to the assumption that "affective is effective", placing the student at the centre of their learning along with their intrinsic motivation to learn.
There is strong scientific research showing the correlation between soft skills and the chances of success in the future. If, as the evidence seems to show, our mastery of these skills can make the difference between a successful future and one of marginalisation, learning them implies giving greater relevance to the stimulation and implementation of programmes such as those recognised in this article for particularly vulnerable educational environments.
Artistic skills, in their variety of forms (film, photography, music, painting, etc.) become an ideal vehicle for transmitting these skills in a transversal way. The challenge is that, once their relevance and feasibility for incorporation into the curriculum has been established, they should also be incorporated into the "core skills".
Don't miss our next post in which we will highlight innovations that can be used to teach students how to live and coexist in the digital society.
*This article forms part of a series in which we analyse the initiatives and programmes featured in the HundrED report. In the first post of this series, we explain the selection criteria and how the HundrED report is drawn up. In the second we explain and analyse some of the digital initiatives and programmes for socio-educational intervention in vulnerable contexts.