Education is crucial for the development of society and human potential. Nevertheless, according to the United Nations, 258 million children were left out of school in 2018. Education is a human right and therefore, providing access free of charge, it is imperative to provide a quality learning experience, for anyone, anywhere.
This time, the relevant initiative emerged from the scaffolding and educational support that Professor Salman Khan provided to his nephews in the field of Mathematics, a discipline in which they had encountered some difficulties. Khan was living in Boston and his nephews in New Orleans, so the distance forced him to design a channel through which to send them explanations on the subject. He started out by using the phone and Yahoo Doodle, and given the success of the venture, was soon inundated with new demands for support from other family members. Time management soon became difficult: it is hard to attend to so many people over the course of a day. To solve this problem, Khan came up with the idea of recording and publishing videos on YouTube, so that everyone could access the explanations, at any time. The videos went viral and were watched by thousands of people. This milestone marked the birth of what we now know as the Khan Academy.
Khan Academy is a non-profit organisation aimed at providing an interactive learning experience that can be access anywhere and anytime. It consists of remote digital training, through audio-visual content, which began in the United States in 2008, offering an opportunity for low-income families to access quality video-based education.
A platform was launched with which users can learn autonomously through videos, articles and exercises. The subjects of the Khan Academy initiative not only include Mathematics, which was the initial trigger discipline, but four other broad subject areas:
Economics and finance

Science

Computer science

Art and humanities
The training proposal is based on a basic framework of standard competences, especially in Mathematics, Science and Coding (some sequences are typical of the discipline of computational thinking). The approach aims to encourage work with institution-certified content, without interaction with third-party content. However, teachers are free to their own teaching sequences. The resources were initially only available in English but have subsequently been translated into 59 languages. Since January 2013, all materials have been available in Spanish.
The platform itself is a closed LMS (Learning Management System), despite being free, with highly intuitive interface that allows users to access it by logging in from their Google account. Generally, it is quick and simple for students, and also allows teachers to create lessons and activities, add students, and assign them their respective activities through a URL that gives them direct access to the virtual classroom.
Those who do not have access to a computer, and only use a smartphone, can download the application on iOS or Android to access the tasks. Unfinished tasks are the first to appear and can be solved by students from their mobile device. This enables them to complete their activities anywhere and at any time.
Khan Academy videos and content are free and accessible to students, parents and teachers who are looking for new ways of teaching. The platform is maintained by donations and volunteers. It is aimed primarily at primary and secondary school students. The application offers an interactive learning experience, presenting users with five learning levels, from beginner to expert.
It uses an algorithm to identify where students make mistakes and guides them to other videos and exercises according to their level of learning. Not all students receive the same training content. The learning is personalised, with the teacher playing a pivotal role. The teacher is the one who guides the student's progression, although there is also the possibility of advancing autonomously through learning sequences.
Accordingly, the proposal evolves towards a curricular structure aimed at being both clear and simple to use. It is also appropriately "gamified" in order to be sufficiently motivating for students in the medium term, so as to keep them training until they have acquired adequate skills. As students complete their tasks, watching the videos, they will improve their results and accrue badges, and their achievements will be synchronised across all their devices.
There is an exclusive course for teachers to provide them with the basic principles to make pedagogical use of the courses, and to present the technological functionalities of the tool. It also provides guidelines for the correct implementation of the proposal with students. It stresses that the teacher training is not linked to any reference framework of digital teacher competence or teaching performance. Its aim is basically to enable the teacher to harness the pedagogical possibilities of the platform itself.
The tool allows students to track their learning progress. But at the same time, teachers or family members have continuous and direct access to students' progress and can supervise the knowledge acquired. Students earn badges according to their progress and can see the points they have earned on their personal dashboard.
The organisation recently launched Khan Academy Kids, a new tool that aims to promote the development of skills in the youngest children, aged 2 to 5 years. It includes content for various subjects corresponding to the pre-school stage. In principle, the content is aligned with the standards of the American Head Start education programme. The interface is much more dynamic and cleaner, and the videos feature animated characters. In terms of the dynamics of interaction, the tool is similar to the basic platform. It allows users to adapt their learning pace to their needs. Furthermore, with even greater emphasis, it encourages parents to take part in the activities.
Finally, with regard to the initiative's impact, in 2018 Khan Academy already had 72 million registered users on the platform. However, they do not measure their results solely by the number of users registered. Instead, they analyse active users on a monthly basis, a parameter that provides a better picture of the proposal's impact. The figures show exponential growth from 2009 to 2018, reaching 1.5 million active users.
Furthermore, the global nature of the project is evident from the geographical impact Khan Academy is having. Again, this parameter is considered insufficient to measure the actual positioning of the proposal worldwide. To provide a more realistic overview, the number of minutes spent on the platform has been measured by country. The total number of minutes stands at about 8 billion.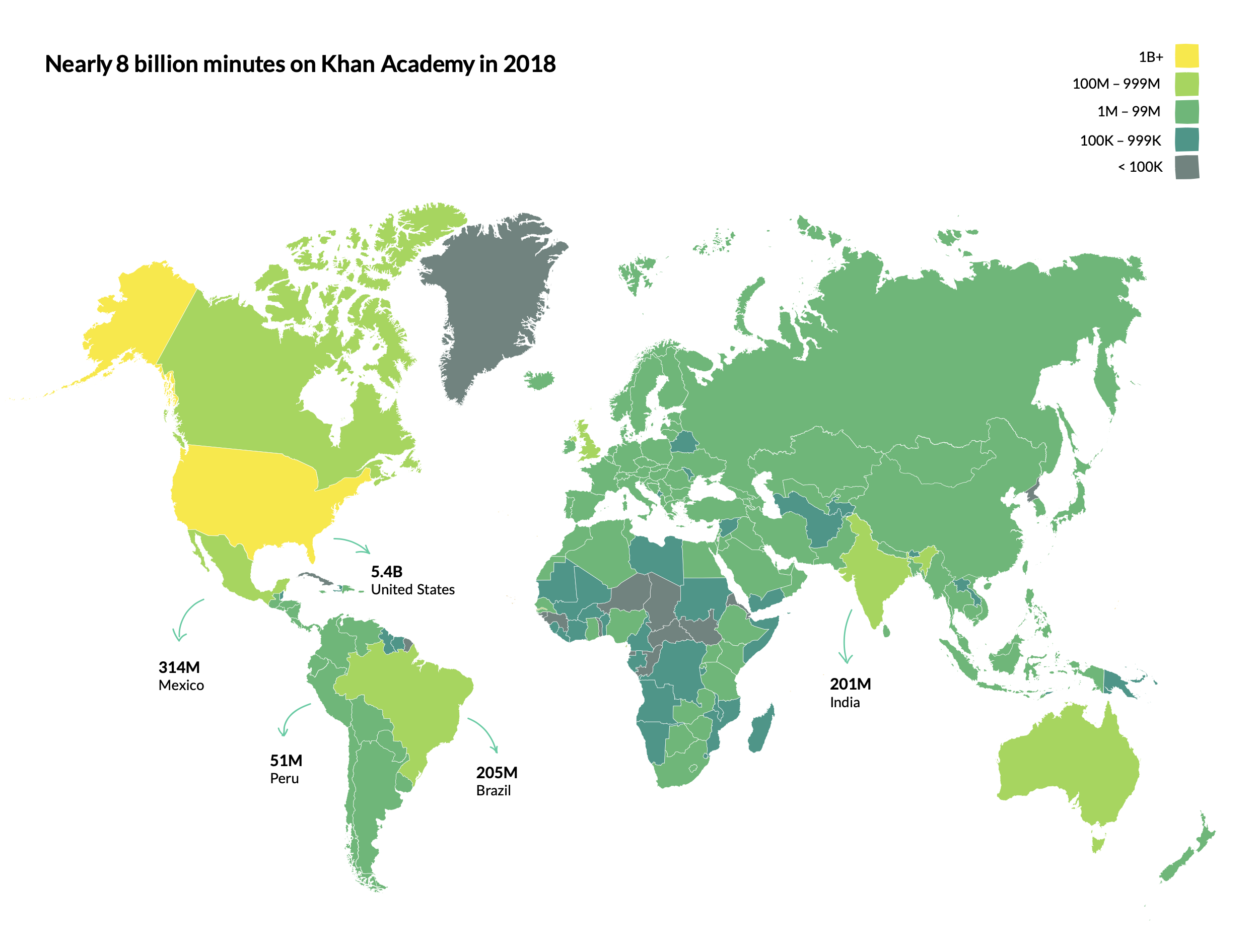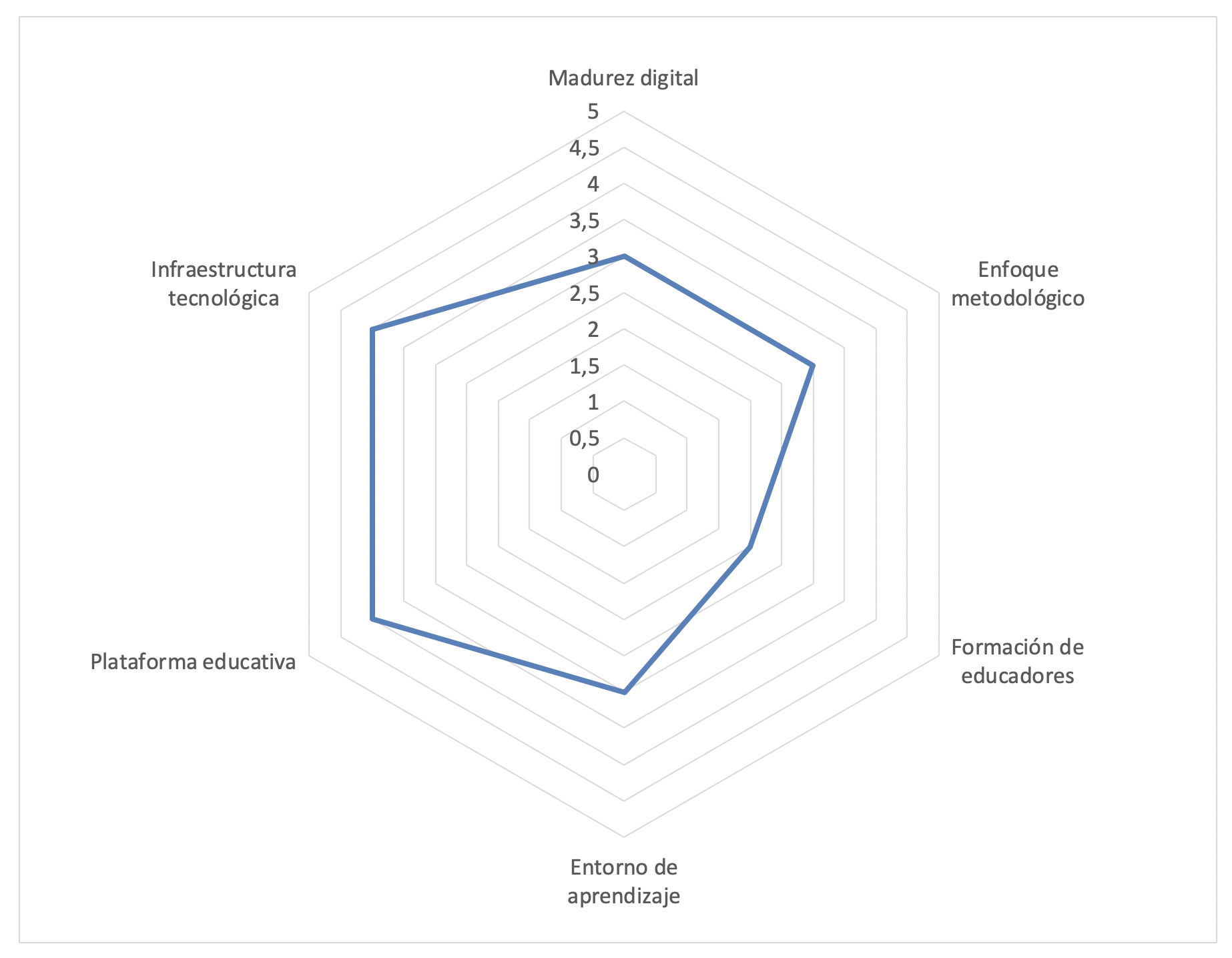 To find out more, visit their website:
Are you involved in any initiative that aims to ensure learning continuity during the global Covid-19 crisis? Share your initiative HERE!