We know that the application of technology to education in vulnerable environments can help to overcome many of the major access, equity, inclusion and quality issues facing education systems in many countries. However, we must never forget that technology is a means and not an end in itself and that, if it is to serve the purpose of bridging educational divides, "digital pedagogy" and the related teacher training must lie at the centre of our vision.
Level Up is a course launched by ProFuturo and developed by Aonia, the main goal of which is to motivate teachers and encourage a positive attitude towards the introduction of technology into the classroom. The course therefore offers two tools that are proposed as two consecutive and clearly distinctive phases:
An initial one (Exploring… We are digital!) which allows them to introduce technology into their classrooms in a guided manner.
A second one by means of which they can learn to develop innovative pedagogical practices and approaches (Learning together… Let's practice!).
Let's take a look at how each of them works.
Exploring… We are digital!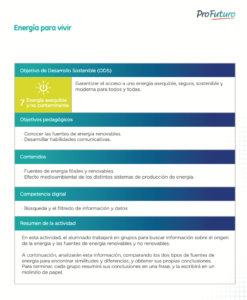 This initial phase of the course seeks to minimise the block that teachers sometimes feel when faced with the arrival of technology in the classroom. It involves an augmented reality (AR) experience made up of six activities (or six augmented reality stations) in which the teachers are asked to focus on different contents related to the United Nations Sustainable Development Goals (SDGs). The teachers thus incorporate a digital experience into the classroom, generating a context in which the students can connect and reflect on their environment.
The activities are based on the journey to Earth of two characters, Balti and Yoki, who visit ProFuturo's schools to learn more about the different realities of their communities. In this way, students should reflect on plastic consumption, active living habits, the importance of water and animals, energy functioning and its consumption, and human beings' life in community.
Each of the activities has different materials designed to cover a wide range of teaching-learning contexts: more digital, more analogue, for children who can already read, for ones who are still learning to and so on.
The teachers are also provided with a section that will help them to define the design of the activity better and facilitate its analysis and evaluation.
Learning together… Let's practice!
The main objective of the second phase of the Level Up programme is to help the teachers to introduce innovative pedagogical practices, thus improving the students' learning experience and creating learning communities for the exchange of experiences and ideas.
The programme covers four topics and combines face-to-face group work sessions conducted together with a coach and individual sessions that the teachers conduct on their own. These are the four modules that are covered:
Classroom management. Different classroom management techniques are worked on, examining their effect on creating a climate for learning.
Classroom planning. The aim is to convey the importance and benefits of lesson planning. The teachers learn more about what's needed to plan a lesson (learning objectives and design of activities) and the steps to be taken for effective planning.
This module reflects on the importance of encouraging the students to be aware that they can do anything they set their minds to and change certain perceptions they have of themselves. In this regard, it will be explained why motivation can help the students to achieve their goals and different motivational strategies will be studied.
Verification of the learning. Techniques will be developed to ask all the students rigorous questions in order to obtain useful information about their learning levels and create learning opportunities for everyone.
The ladder of metacognition
Each of these modules opens with a review and conclusion to the previous module. This is achieved by means of a process that its authors (Robert Swartz, Arthur L. Costa, Barry K. Beyer, Rebecca Reagan and Bena Kallick) call "the ladder of metacognition" in their work titled Thinking-Based Learning. This ladder consists of four steps:
Being aware of the kind of thinking that's occurring (what have I learnt?).
Identifying and describing the strategy used (how have I learnt it?).
Evaluating the effectiveness of the strategy that's been applied (what has it served for?).
Planning to develop the same kind of thinking in the future (what can I use it for?).
The aim is for the teachers to reflect on their practice and learning individually and as a community, making them aware of what they've learnt and its usefulness in their daily work in the classroom.
The teachers are the key link in the chain that can lead to the true democratisation of access to high-quality education through technology. Let's inspire this change by encouraging them to embrace innovation and equip them with the tools to do so properly.