"Children are full of fire, desire, and wonder, and teachers in particular can light the fire in children's imagination. It is our commitment to each and every one of us to keep the fire burning inside these children"
Namile Dlamini, 25, is an educational coach at ProFuturo in Eswatini and believes it is inspiring to be part of the positive change for children in her schools. Despite the difficulties of growing up female in a community with the highest crime rate in the country, strong patriarchal values, and high drop-out rates, she managed to graduate from high school and go to the local university, becoming the first in her family to obtain a tertiary education.
"Regardless of the environment I grew up in, I wanted to set an example to other children that their circumstances should not be their limitations. All lives matter and we all deserve the same opportunities, it's just that some of us have to work harder than others," Namile confirms. Her childhood struggles led her to choose social work as a profession in order to bring positive change to a society that overlooks the value and rights of children and women. "As I have got older, I have realised that the struggles I have been through have made me stronger and I am very resilient in bringing positive change to the youth of Eswatini."
In August 1995, Eswatini ratified the UN Convention on the Rights of the Child. To fulfil this agreement, Eswatini has a total of 830 schools, some of which are still under construction. "For an economically disadvantaged country, Eswatini strives for free education for all. Free primary education was first introduced in January 2010, and fees at the secondary level have been standardised. In the case of children who face extreme social hardship and cannot pay school fees, the government covers the enrolment," Namile says. 
To be a ProFuturo educational coach
"For me, an educational coach is as good as a pioneer of change, and change is inevitable. The world is moving towards digitalisation. Being an educational coach made me feel the excitement that our education system in Eswatini is moving up a level. The most inspiring thing is that I have the opportunity to bring about positive change, which is one of my main goals. I feel we are having a chance to catch up with the rest of the world.
For Namile, coaching four schools in different remote areas of the country is quite an adventure. This coach has had to learn to adapt to and accept the diversity of the schools in which she works. "A weakness in one school can be a strength in another, so I have to expand my knowledge and my leadership skills."
Namile says that although the teachers behave differently, they are united by the common goal of making the ProFuturo project a success. Although many of them were initially reluctant about the project, once they had the opportunity to see the equipment and use it, there was a positive change in their behaviour.
"What strikes me most about the group of teachers I work with is the way they have embraced the project. They even go the extra mile and volunteer for additional training in their spare time. They have even introduced innovative learning ideas into their classrooms, as an influence of the ProFuturo project."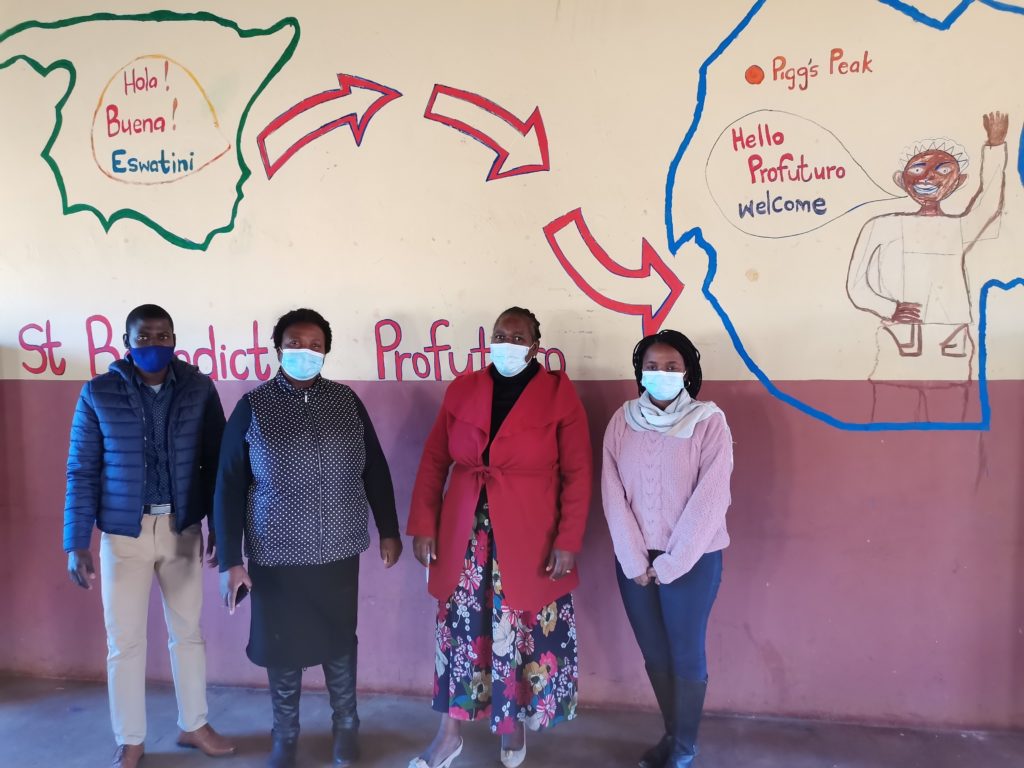 Namile began training in technology skills in February 2021, and it has been her ally in teaching and acting as an educational coach to other teachers ever since. "Training teachers is a challenge, because each of them has his or her own views, which I have to respect. Thanks to the leadership skills I have acquired during my training, it is easier to cope with different situations."
On the other hand, Namile explains how digital learning has allowed them to be more flexible in the classroom depending on the levels of their students. "Teachers can create an educational context that is adapted to the needs of the child. Some learners are visual, auditory and kinaesthetic, so digital learning can meet all three needs." 
Namile is aware that being an educational coach can sometimes be stressful and have a myriad of responsibilities. However, he believes in the power of coaches and teachers working together to make ProFuturo a success. "Children are full of fire, desire, and wonder, and teachers in particular can light the fire in children's imagination. It is our commitment to each and every one of us to keep the fire burning inside these children. By bringing digital education we are simply liberating the future. Let's unlock tomorrow's future through the ProFuturo programme. The world we want can be won with our commitment."